👉 Looking to move to Fukuoka or move within Fukuoka?
👉 Would you like to wake up to fresh ocean breezes while still being near the city?
👉 Perhaps you're on a tight budget or have a family?
We've been working on a full apartment renovation and now it's available to you at a very reasonable price. This is a private sale, so we'll work with you smoothly the whole way.
Enjoy new appliances, fixtures, flooring, all the basics for starting up your peaceful coastal life in Japan's most livable city.
Location: 2-7-3 Yokohama, Nishi-ku, Fukuoka
Size, layout: 53.98 square meters, top floor (5th) 4LDK with a skylight. (please note the building does not have an elevator)
Price: 7,800,000 yen
Nearest station: JR Imajuku (about a 20-min. walk), which takes you straight into central Fukuoka in about 20 minutes, with another ~5 minutes to Hakata, and another ~10 minutes to the airport. You're fully connected but living in peace and quiet. You're also close to attractions like Meinohama and the Fukuoka PayPay Dome (home of the SoftBank Hawks!) as well as stores, parks, and all that you'd expect in a warm and laid-back coastal neighborhood.
Check the location on Google Maps here.
You can look right out into the ocean. See for yourself, and see what this tidy and well-equipped unit looks like on the inside (click photos to enlarge them) ⏬
And here's the room layout…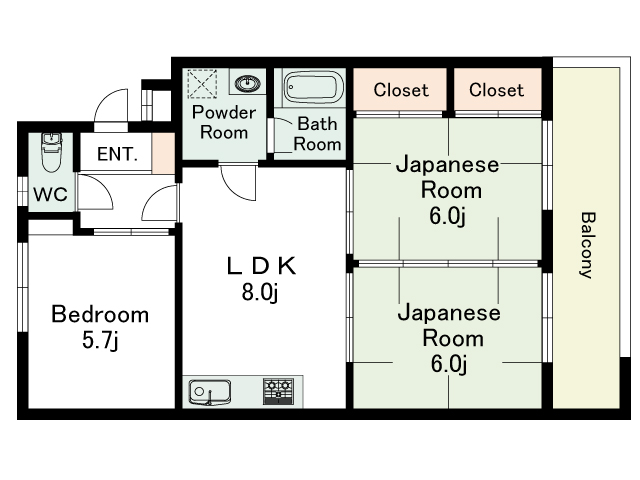 Sea breezes and the tatami mats. It's a fully Japanese experience every day. Yet you have nearby stores, you're close to Kyushu University's high-tech campus, and the city, as well as Meinohama and the nearby beaches, are all within easy reach.
*Please note: There are some special conditions surrounding the history of this apartment. Ask us for specifics.
How about a viewing?
We're happy to pick you up anywhere near central Fukuoka and drive you out to see the apartment.
If you need financing
We'll help you at no cost.
Contact us for full details!